Our team of trained technicians are all highly skilled, and use state-of-the-art diagnostic equipment provided by Volvo to help keep your car performing at it's best.
We are a fully equipped and authorised MOT testing centre, with a pick-up & delivery service available on request. Save over 25% if you book your MOT online now.
All makes and models welcome. Full service available, as well as air-con, tyre replacement and everything in between. 10% off services for over 65's if booked online.
Established for over 25 years, RM Motor Services Ltd. have been providing expert help to thousands of satisfied customers both old and new, and are one of the largest and most well-known Volvo specialists in Cornwall. Their highly skilled team of friendly, professional mechanics are on-hand to deal with almost any problem on any car, as well as provide the services you would expect from a leading garage, including: MOT testing, servicing, air conditioning and tyre replacement.
RM Motor Services are also offering exclusive discounts for services booked online this December. You can book your car in for an MOT test for just £40 instead of the usual price of £54, and over 65's will receive 10% off* the standard price of a service if booked online using the form at the bottom of the page. Please see below for full contact details, and a more comprehensive list of some of the services available:
Where to find us
RM Motor Services Ltd.
Unit 7,
Long Rock Business Park,
Penzance,
Cornwall,
TR20 8HT

Tel: 01736 330 300
Fax: 01736 360 480

Mon-Fri: 08:30-17:30
Sat: 09:00-12:00
* Please ask when booking.

At RM Motor Services, we pride ourselves on our ability to work professionally and efficiently with any make of car; but our real passion lies with Volvo's. As one of the only licensed Volvo specialists in Cornwall, we have been selling, repairing and servicing Volvo's from the South West and beyond for over 25 years - our extensive list of satisfied customers speaks for itself.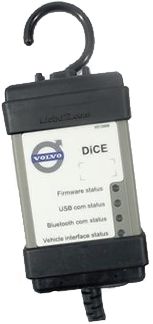 What makes us so good?
Our team of trained technicians are highly adept at working with Volvo's, and have a complimentary range of skills that enable them to troubleshoot, diagnose and fix almost any problem in our specialised garage.
In addition, we have invested heavily in state-of-the-art equipment to provide our customers with the latest and greatest advancements in technology. Our mechanics are trained by Volvo to use their proprietary VIDA Diagnostic Tool: a complex hand-held computer system that plugs directly into your car's on-board computer to help troubleshoot and diagnose problems - often before they even happen. The VIDA is able to communicate directly with your car to update it's software and make sure it is running at 100% efficiency.
Potential problems and known faults are flagged up immediately so that they can be repaired on the spot by our team, who are trained to deal with all makes and models of cars and vans. We are even able to accommodate special vehicles such as ambulances and police cars that deviate from the standard factory model, so give us a call today to find out how we can help you.

A Ministry of Transport (MOT) Test is a legal requirement for cars older than 3 years to assess their safety and fitness to drive, and every car must pass before it is allowed to drive on UK roads.
We are fully licensed by the Vehicle & Operator Services Agency (VOSA - part of the Department for Transport) to conduct MOT tests as required by law, and can do so while you wait providing you book in advance.
Take advantage of our special offer available exclusively to our online customers. Book your MOT now using the form at the bottom of the page, and you'll automatically receive 25% off the standard price! This special offer is only valid when booked online, and entitles you to a single MOT test for £40 instead of the usual price of £54.
For those with a busy schedule, we also offer the ultimate convenience: a pick-up and delivery service so you don't even need to take the day off work. We will collect your car, run it through it's MOT test, and deliver it back to a location of your choice.*
What's more: if your car fails it's first test, we are so confident in our abilities that we will re-test your car absolutely FREE if we carry out the repair work.
* Additional fees may apply. Please ask when booking.

Keep your car performing at it's best with a full service at RM Motor Services. Whether you are looking to improve your car's performance, or simply satisfy existing warranty conditions: a service can help you save money by minimising driving costs and reducing the likelihood of an expensive problem developing. Services of different levels are available, but can include some of the following rigorous tests as standard:

LIGHTS
Bright lights and intense beams mean better vision and safer night driving

OIL
Clear motor oil lubricates moving parts and keeps the engine running smoothly

OIL FILTER
A clean oil filter removes impurities and keeps oil fresher for longer

EXHAUST
Healthy exhaust systems improve fuel economy and car performance

AIR FILTER
Air filters deliver clean air to the fuel intake system and help car performance

COOLANT
Coolant helps to prevent overheating by absorbing excess engine heat

BRAKES
Clean and responsive breaks reduce stopping distances and aid breaking

DOOR LOCKS
Door locks are crucial for theft prevention, and must be in perfect working order

SUSPENSION
Good suspension contributes to road handling and is important for comfort

PANELS
Body panel integrity is important to help prevent rust and other structural defects

TYRES
Poor tyres affect braking, road handling, fuel consumption, and performance

ELECTRONICS
The Latest electronic updates maximise a carís potential and reduce driving costs
To book a service, please use the form at the bottom of the page. All makes and models are welcome.
December Special Offer: This month we are running an exclusive discount for over 65's*. Book a service now using the form at the bottom of the page, and automatically receive 10% off the standard price!
* Please bring your Driver's Licence or other valid ID.
Repairs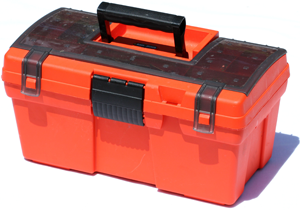 In the event that your car has a problem that needs repairing, or has developed a fault that will not allow it to pass it's MOT test; our expert mechanics can have you back on the road in no time. With our state-of-the-art diagnostic computers, a fully equipped specialist garage, and network of auto part suppliers; there is no problem that is too big.
If you are broken down at home or the roadside, we offer a call-out service where one of our trained mechanics will attempt to fix your car at it's location, or tow it back to our garage for repairs if they are unsuccessful. We also welcome recovery tows, but ask that you call ahead in advance so we can ensure we have enough room to accommodate your vehicle.
For more information, please call us on 01736 330 300.
Tyres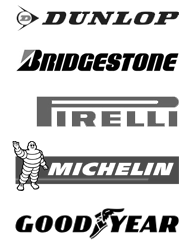 We stock a wide range of quality tyres from well-known manufacturers, and can change them while you wait. Our prices are very competitive, and if you are looking for a tyre that we do not have in stock; we can order it in for next-day delivery.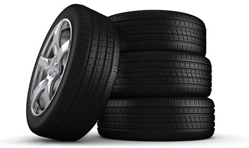 Choose from a huge range of performance and economy tyres from Goodyear, Pirelli and Michelin, or opt for some of our high quality mid-range tyres from manufacturers such as Kumho or Yokohama if you are on a tight budget.
We only ever supply quality, new tyres; never remoulds or part-worn's.
Air Conditioning
If your car is fitted with air conditioning and you haven't had it recharged in the past 2 years; you may need to have it refilled with gas and lubricant to keep it working effectively.
Air conditioning is not checked as part of a standard service, and due to the nature of the components inside, around 10% of the refridgerant gas can permeate from the system every year, even if it is rarely used. When it drops below a certain point, your air conditioning will not work as well as it should, and could begin to fail completely.
If you suspect your air conditioning needs a recharge, pop in to RM Motor Services and our trained technicians will replace the lubricant and refrigerant levels in your car according to the manufacturers recommendation.

If you have a general enquiry, or would like to book your car in with RM Motor Services; please use the form below. Remember the exclusive web discounts that are available by booking online this month: get 25% off your MOT test when booked online, and over 65's can benefit from 10% off the cost of a full service if booked using the form below:
Once you submit the form, somebody will be in touch with 48 hours to acknowledge your enquiry and confirm your booking if necessary. Please ensure that you type the correct contact details so that we can get back to you.